298 Bedford Avenue
Brooklyn, New York 11249
347 335 0446 / info@maisonpremiere.com
Lunch Hours
2pm to 4pm | Mon to Fri
Bar Hours
2pm to 2am | Thursday, Fri & Sat to 4am
Dinner
5pm to 11pm | Fri & Sat to Midnight
Oysters
Served to 12am | Fri & Sat to 2am
*Happy Hour Mon to Fri 4-7pm | Sat & Sun 11am – 1pm
Brunch
11am to 4pm | Sat & Sun
Excludes Valentine's Day; Kentucky Derby; Memorial Day; 4th of July; Labor Day; Thanksgiving; Christmas Day; New Year's Eve; New Year's Day


Maison Premiere accepts reservations for up to six guests for Brunch or Dinner only.
For Oyster Happy Hour we are first come, first served.
Please use the link below to schedule a reservation.
Reservations are accepted up to one month in advance.
If a reservation isn't available, we always accept walk-ins.
For private event inquiries, please email events@maisonpremiere.com.
From June to September our garden is open for service!
For all reservations, guests may be seated in the garden or inside.
We will do our best to accommodate your preference.
Private Events
From our horse-shoe cocktail bar to our enchanted garden, Maison Premiere offers a luxurious setting for your event. Our packages range from a full buyout for up to 70 guests to a summer booking of the garden for up to 40. For a small gathering of up to 15 guests, we can reserve a portion of the bar with a special menu of oysters, snacks, and drinks. Please email us for a full description of our event packages.
events@maisonpremiere.com
Oyster Catering is Now Available
Serving parties of 10 to 200 guests, we will recreate our oyster bar in your home. Please email us for further details.
oystercatering@maisonpremiere.com


"For The Best New Orleans Cuisine In New York, Go To Brooklyn"
Highlighting our house specialty, Seafood Gumbo, Laurie Werner from Forbes Magazine wrote:
"I've eaten a lot of gumbo in my numerous visits to New Orleans and this is as good as anything there and better than anything you can find in New York."
by Forbes Magazine
————————————————-
Maison Premiere is one of the editors' picks of 50 restaurants for the best places across the city to eat and drink.
by Wine and Spirits Magazine
————————————————-
Maison Premiere was included on an article about  "Where to Drink in NYC Right Now"
by Thrillist
————————————————-
Our Team has been Nominated for "2017 Bar of  the Year Award"
by Time Out New York
————————————————-
Maison Premiere Rated at #9  of 19 "Best Bars in New York City "
by Conde Nast Traveler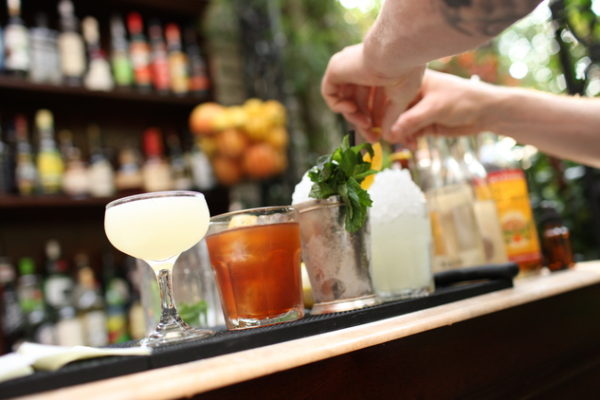 Maison Premiere, an Oyster House and Cocktail Den reflective of the staple establishments of New York, Paris and New Orleans.
Inspired by hotel lobbies of days gone by, afternoons in Paris cafes, late night dinners brooding over bivalves and wading through glasses of pastis and absinthe. We bring to our guest a list of oysters from 30 different varieties based on market availability. Our Absinthe list boasts the largest collection of premium Absinthes in New York City and in honor of the ceremony and traditions of Absinthe, Maison Premiere's ode to the green fairy can be found center stage dispensing chilled water in the form of the world's most accurate working replica of the Absinthe fountain which once flowed in the Olde Absinthe House of New Orleans.
Welcome yourself in and allow us to accommodate you.